Well since a Price point had been given out of $250 dollars for the Basher I think It would be fair to take a look at its competition .
Now for the most part there are not a lot of 1/8th scale monster trucks in this price range but assuming that this is going to be sold ARR needing a radio and Batteries I think it safe to assume adding a few additional dollars to your budget would be suggested . The great thing is you can mild or wild with picking the stuff to go with this truck and in many cases it is a better deal to buy these items separately so keep that in mind when shopping This list will start from Low to high and these prices are not list prices but retail.
So here is our base line .
HobbyKing Basher 1/8th Nitro Circus MT
RTR $322.06 ARR $279.00
POWER SYSTEM
Powerful 2075KV Brushless Inrunner Motor
80A Brushless ESC w/ Reverse
4S or 2x 2s Lipo Battery w/ HXT 4mm Connector (Required)
15Kg Heavy Duty Steering Servo
DRIVETRAIN

Full time 4WD
Steel front, center and rear sealed differentials
Hardened steel pinion gear
Heavy duty drive shafts
Hardened metal drive cups
Full ball bearings
CHASSIS
3.5mm alloy chassis plate
Adjustable screw shock absorbers
Oil filled, big bore shock absorbers
3.5mm shock shaft
Adjustable toe-in and toe-out
Adjustable camber and castor
Independant wishbone suspension
Officially licensed Nitro Circus engraving
MEASUREMENTS
Length: 577mm
Width: 480mm
Height: 314mm (To top of cab)
Ground clearance: 110mm (Adjustable)
Battery area: 138mm x 46mm x 25
First contender
Integy i8MT 4x4 Brushless RTR 1/8
$240.49
www.integy.com
FEATURES:Chassis: 0.14" (3.5mm) thick aluminum with plastic side guards
Drive: Four wheel shaft
Differentials: Three bevel gear type
Motor:
Brushless, 3674 size 1510kV with heatsink motor mount and cooling fan for efficient heat dissipation
Radio: GT3 2.4GHz with high-torque steering servo
Electronic Speed Control: 80A continuous, 380A burst current, with XT-60 battery plug (see battery recommendations)
Shocks: Composite body big bore oil filled
Tires: All terrain 3.25" (82.5mm) wide, 6" (152mm) diameter with foam inserts
Wheels: Six spoke plastic black in color, 3.4" (87mm) diameter, 2.2" (56mm) wide
Bumpers: Front and rear plastic
Body: Trimmed and painted polycarbonate
Caster: Adjustable, caster/toe-in refers to the angle of the front suspension when viewed from the side of the car in relation to the chassis
Camber: Adjustable front and rear, camber refers to the angle of the tops of the tires from vertical when viewed from front or behind vehicle
Ball Bearings: Full set included
Includes:RTR i8MT Monster Truck with Brushless Motor, 2.4GHz Radio, High-Torque Steering Servo, Motor Cooling Fan, Painted Body, Decals and Instruction Manual
Requires:AA Batteries: Eight for transmitter
Battery: 11.1V LiPo 3S (A connector to match the selected battery will have to be soldered to the ESC leads if not using a battery with an XT60 connector)Battery Charger: To match selected battery
Maintenance and track equipment Vehicle
Length: 20.5" (521mm)Width: 14" (356mm)Wheelbase: 12.5" (317mm)Weight: 8.2lbs (3719.5g)BodyLength: 16.8" (427mm)Width: 6.9" (176mm)Height: 4.9" (126mm)
Team Magic E6 Trooper Electric Monster Truck RTR w/H.A.R.D. 2.4GHz Radio System
$317.00
www.amainhobbies.com
E6 Trooper Features:
THOR Brushed ESC

THOR 775 Power motor

HARD 2.4GHz radio system and heavy duty metal gear servo

Hardened steel transmission gears

4mm aluminum shock towers

6061 aluminum spur gear linkage plate

High quality bearings

Adjustable turnbuckles

Aluminum servo horn

3.8" chrome wheels and 5.575 all terrain tires

Center driveshaft dust cover

Hardened steel CVA driveshafts

Tub style chassis

ESC protection cover

Super strong long travel suspension
HARD 2.4GHz Specifications: Channels: 2
RF Power: Less than 20dbm
Modulation: GFSK
Code Type: Digital
Sensitivity: 1024
Low Voltage Warning: Yes (less than 9V)
DSC Port: Yes (3.5mm)
Charger Port: Yes
Power: 12V DC (8 AA Batteries)
Weight: 328g
Antenna Length: 26mm
Size: 159x99x315mm
Certificate: CE FCC

E6 Trooper Specifications:
Length: 500mm
Width: 410mm
Height: 220mm
Wheelbase: 350mm
Track: Front-410mm; Rear-410mm
Ground Clearance: 76mm
Weight: Approx 4290g
Needed to Complete:
(8) AA Batteries for transmitter

(2) 7.2V Rechargeable Batteries & Compatible Charger
Redcat Earthquake 8E Brushless Electric Truck
$329.99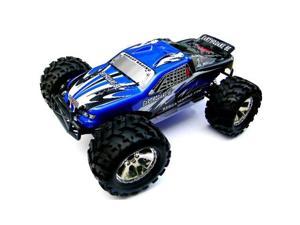 Features:
1/8 Scale
Fully Assembled, Ready to Run
4 Wheel Drive Shaft System
Chassis Type: Fiberglass
2.4 Ghz Radio Remote Control
Includes remote and manual Specifications:
Ground Clearance: 58 mm
Length: 510 mm
Wheel Base: 325 mm F/R
Height: 250mm
Width: 380mm
Motor Type: Electric Brushless 8T 2400RPM 540
Chassis Type: 3.0mm 6061 Aluminum
Shocks: Oil Filled Big Bore Shocks
Speed Control: Brushless ESC EZRUN-80A
Battery: Dual LIPO 7.4V Batteries (20c 3200mAH 2s) & Charger included
Radio System: Redcat DSM-2C 2.4 Ghz Remote & Receiver
HPI E-Savage Truck with GT Truck Body w/Batteries & Charger

$349.99
INCLUDES:
Dual 14.4V high power electric motors

Low-mounted dual batteries

8 long travel shocks

Savage style TVP chassis

HPI GT Speed
Specifications: Controller (14.4V)

Safety protected reverse

GT escape charger (with DC 12V adapter)

Dual Batteries (HPI GT 7.2V 3300mAh/2pcs)
Length:
455mm (17.91in)
Width:
363mm (14.29in) 0
Wheelbase:
293mm (11.54in)
Tire Size:
138x70mm (5.4x2.8in)
Weight:
9 lbs
Redcat Racing AVALANCHE-XTE Avalanche XTE 1-8 Scale Brushless Electric Truck with 2.4GHz Remote Control $349.99
Drive System: 4 Wheel Drive.
Chassis Type: 6061 Aluminum.
Shocks: Oil filled Big Bore Shocks.
Speed Control: Brushless ESC 80A.
Battery: Dual LIPO 7.4V Batteries (20c 3600Mah 2s) and Charger Included.
Radio System: 2.4GHz Radio System.
Iron Track Raider MegaE8MTL 1:8 SCALE RTR 4WD Brushless Monster Truck

$369.00
2.4ghz Transmitter and Receiver
11.1v 2700mah Battery Pack
Specification:
Length: 596mm
Width: 403mm
Height: 248mm
Wheelbase: 370mm
Required to Run:
2-3cell Li-Po charger
AA Batteries for Transmitter
Not recommended as It and its brothers have more durability issues than others in this price point.
1/8Th EP Mad Beast Monster Truck Racing Edition Ready to Run w/ 540L Brushless Motor/ ESC/ Lipo Battery

$369.00
2 Channel 2.4ghz Exceed RC Radio System
540L (36x65mm) 2150kv Sensorless Brushless Motor
XeRun 80A-R Programmable ESC 2-4S LiPo 3A @ 5.75v
ND1009 Metal Geared Steering Servo
Two 3mm thick aluminum chassis plate
8 Aluminum body shocks w/ adjustable threaded collars
Aluminum steering hub
Hardened & Coated Steel Gears
Multi-piece Anti-Sway Bars
Fully Sealed Ball Bearing Set
Robust Slipper Clutch Assembly
Two 7.4v Li-Po 3300mah 20C Cont / 40C Burst batteries included
Pistol 2.4Ghz Remote Control Radio
WheelBase:15"
Weight:5.2kg
This item Does NOT come with Charger
Electric Brushless KV 2260
Qty 4 Big Bore Oil Filled Aluminum Adjustable
Qty. 2 - 7.4v 3200mAh 20c LIPO & Charger Included
Now this is not a complete list but a grouping of the low end 1/8th scale models (less than $400) that are available in the US at this time. All of these trucks are relatively comparable With the exception of the HPI it does have a bit more parts support but it also has a less powerful brushed system.The Team Magic truck is a little out of its element being compared to these trucks as well since parts support in the US is spotty/ possibly less than any of the other's listed here and it is powered by a brushed system .
Now with the information in front of you you're probably wondering what the batteries and radio are worth to you as to be completely honest you should just forget the included chargers with the RTR's exist, as to be frank there a joke .
A basic 2.4ghz radio system
Price Examples
Hobby King GT-2 2.4Ghz 2Ch Tx & Rx (USA Warehouse)
$19.96
FS-GT2 2.4G 2CH Gun Transmitter w/ Reciever
$21.99
best batteries listed in the RTR's are 2 x 3600 mah 2s 20c packs
Price Examples
ZIPPY Flightmax 4000mAh 2S1P 25C Car Lipoly 2x
$15.50